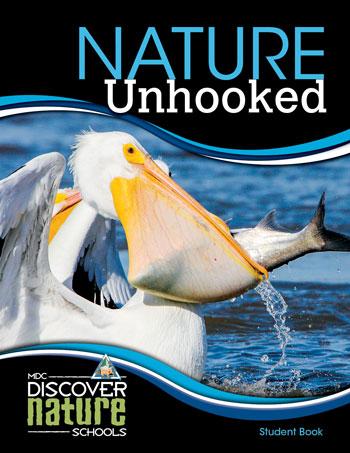 Nature Unhooked Student Book features illustrations and activities that help middle school students understand, appreciate, and conserve Missouri's waters. Detailed lessons in the Nature Unhooked Teacher Guide engage students in exploring the properties and effects of water in the environment, interactions in aquatic ecosystems, and the importance of practicing conservation.
Each chapter includes activities that help students understand ecological concepts through direct contact with the natural world. Objectives of the activities are centered on the Missouri Learning Expectations for Science and the activities include learning through investigation, demonstration, modeling, role-play, and argumentation.
An optional Project-Based Learning component allows students to address aquatic issues in their community. Students connect lessons about aquatic ecosystems and how natural processes and human actions affect the nature around them. Formative and summative assessments are included for each chapter, as are practices for differentiated instruction.
Through the use of the Nature Unhooked Science Notebook, students plan and carry out investigations, gather information and data, evaluate and interpret data, and reflect on their experiences as they explore aquatic ecosystems.
Explore the PDF versions of the student book and teacher guide below. Download the teacher guide to your tablet and for use in printing PBL planning sheets and extra student pages. The student book can be downloaded for use with Chromebooks.
Videos
Understanding Water Movement in a Stream Table (Activity 2.6) (Discover Nature Schools)
Macroinvertebrate Sampling (Activity 5.2) (Discover Nature Schools)