Discovery Trunks include thematic hands-on materials intended to engage students in sensory experiences and learning. Materials are age appropriate and specifically supplement nature learning found in existing Discover Nature Schools curricula.
Contents of each trunk vary, but items you might find include:
Nature items such as fur or animal skulls
Science tools such as thermometers or magnifying glasses
Supplemental student books such as field guides and picture books
Teacher resources such as content books and lesson plans
Check below for trunks available in your region.
Central Region

Pickup Location

MDC Columbia Regional Office, 3500 Gans Road, Columbia, MO 65201

To reserve a trunk, call Ethan Regan at 573-815-7901 ext. 2866.

| Trunk | Grade Level | DNS Curricula Supplemented |
| --- | --- | --- |
| Mammals | K–12 | All |
| Aquatic Habitat | 3–12 | Nature Unleashed, Nature Unhooked, Nature Unbound |
| Whitetail Deer and Bear | K–12 | All |
| Missouri Birds | 3–5 | Nature Unleashed |
| Insects | K–12 | All |
| Forestry | 6–12 | Nature Unhooked, Nature Unbound |
Kansas City Region

Pickup Location

Anita B. Gorman Discovery Center, 4750 Troost Avenue, Kansas City, MO 64110

To reserve a trunk, contact Kathy Kottemann, 816-759-7305 ext. 1126. Trunks can be checked out for up to 2 weeks.

| Trunk | Grade Level | DNS Curricula Supplemented |
| --- | --- | --- |
| Preschool | Pre-K | Nature Revealed |
| Picture Book | Pre-K | Nature Revealed |
| Nature Stamps | K–2 | Nature Unfolds |
| Primary Mammal | K–2 | Nature Unfolds |
| Foot Molds | K–2 | Nature Unfolds |
| Sounds of Nature | K–2 | Nature Unfolds, First Grade: Exploring Missouri |
| Amphibians and Reptiles | 3–5 | Nature Unleashed |
| Bat | 3–5 | Nature Unleashed |
| Bird | 3–5 | Nature Unleashed |
| Black Bear | 3–5 | Nature Unleashed |
| Prairie Ecosystem | 3–5 | Nature Unleashed |
| Lewis and Clark Elementary | 3–5 | Nature Unleashed |
| Mountain Lion | 3–5 | Nature Unleashed |
| Orienteering | 3–5 | Nature Unleashed |
| Secondary Mammal | 3–5 | Nature Unleashed |
| Forest Ecosystem | 3–5 | Nature Unleashed |
| Pond Ecosystem | 3–5 | Nature Unleashed |
| Lewis and Clark Secondary | 6–12 | Nature Unhooked, Nature Unbound |
| Rocks, Minerals, and Fossils of Missouri | 6–12 | Nature Unhooked, Nature Unbound |
| Tree | 6–12 | Nature Unhooked, Nature Unbound |
Northeast Region

Pickup Location

MDC Hannibal Office, 8965 Highway 36, Hannibal, MO 63401

To reserve a trunk, contact the MDC Hannibal office at 573-248-2530.

| Trunk | Grade Level | DNS Curricula Supplemented |
| --- | --- | --- |
| Prairie Habitat | Pre-K–12 | All |
| Forests Habitat | Pre-K–12 | All |
| Urban Nature | Pre-K–5 | Nature Revealed, Nature Unfolds, Nature Unleashed |
| Aquatic Habitat | 3–12 | Nature Unleashed, Nature Unhooked, Nature Unbound |
| Wetlands Habitat | 3–12 | Nature Unleashed, Nature Unhooked, Nature Unbound |
| Caves Habitat | Pre-K–12 | All |
| Mammal | Pre-K–12 | All |
| Black Bear Trunk | Pre-K–2 | Nature Revealed, Kindergarten: Bears Through the Seasons, Nature Unfolds |
| Bird | Pre-K–12 | All |
| Reptiles and Amphibians | Pre-K–12 | All |
| Insect | Pre-K–12 | All |
| Beaver | Pre-K–12 | All |
| Turkey | Pre-K–12 | All |
| Owl | Pre-K–12 | All |
| Plaster Cast Food Molds | Pre-K–12 | All |
| Positive Track Stamps | Pre-K–12 | All |
| Lewis and Clark Expedition | Pre-K–12 | All |
Northwest Region

Pickup Location

MDC Chillicothe Office, 15368 LIV 2386, Chillicothe, MO 64601

To reserve a trunk, email Adam.Brandsgaard@mdc.mo.gov or call 660-646-6122.

| Trunk | Grade Level | DNS Curricula Supplemented |
| --- | --- | --- |
| Mammals | K–12 | All |
| Reptile and Amphibian | K–12 | All |
| Raptor Discovery | K–12 | All |
| Bird Discovery | K–12 | All |
| Forestry Discovery | K–12 | All |
| Insect Discovery | K–12 | All |
| Paint Discovery | K–12 | All |
Ozark Region

Pickup Location

MDC Ozark Regional Office, 551 Joe Jones Blvd, West Plains, MO 65775

To reserve a trunk, call 417-256-7161. Trunks can be checked out for up to two weeks.

| Trunk | Grade Level | DNS Curricula Supplemented |
| --- | --- | --- |
| Mammals | K–12 | All |
| Birds | K–12 | All |
| Insects | K–12 | All |
| Lewis and Clark | K–12 | All |
| Caves and Karst Experience | K–12 | All |
| Rocks and Minerals | K–12 | All |
| Compass Borrow Box | K–12 | All |
Southeast Region

Pickup Location

Cape Girardeau Conservation Nature Center, 2289 County Park Drive, Cape Girardeau, MO 63701

To reserve a trunk, contact 573-290-5218. Trunks can be checked out for up to two weeks.

| Trunk | Grade Level | DNS Curricula Supplemented |
| --- | --- | --- |
| Aquatics | K–12 | All |
| Bats | K–12 | All |
| Birds | K–12 | All |
| Butterfly | K–12 | All |
| Forestry | K–12 | All |
| Insects | K–12 | All |
| Insects Collection | K–12 | All |
| Lewis and Clark | K–12 | All |
| Life Cycle | K–12 | All |
| Mammal | K–12 | All |
| Pelts | K–12 | All |
| Skulls | K–12 | All |
| Tracks | K–12 | All |
| Native American | K–12 | All |
| Nature Revealed | Pre-K | Nature Revealed |
| Reptiles and Amphibians | K–12 | All |

Pickup Location

MDC Piedmont Office, 410 Piedmont Avenue, Piedmont, MO 63957

To reserve a trunk, contact 573-223-4525. Trunks can be checked out for up to two weeks.

| Trunk | Grade Level | DNS Curricula Supplemented |
| --- | --- | --- |
| Bear | K–12 | All |
| Caves and Karst | K–12 | All |
| Elk | K–12 | All |
| Mountain Lion | K–12 | All |
| Nature Revealed | Pre-K | Nature Revealed |
| Project Learning Tree | K–12 | All |

Pickup Location

Mingo National Wildlife Refuge, 24279 State Highway 51, Puxico, MO 63960

To reserve a trunk, contact 573-222-3589. Trunks can be checked out for up to two weeks.

| Trunk | Grade Level | DNS Curricula Supplemented |
| --- | --- | --- |
| Nature Revealed | Pre-K | Nature Revealed |
| Wetlands | K–12 | All |

Pickup Location

Bootheel Youth Museum, 700A N Douglass St., Malden, MO 63863

To reserve a trunk, contact 573-276-3600.

| Trunk | Grade Level | DNS Curricula Supplemented |
| --- | --- | --- |
| Nature Revealed | Pre-K | Nature Revealed |
Southwest Region

Pickup Location

MDC Southwest Regional Office, 2630 N Mayfair, Springfield, MO 65803

To reserve a trunk, contact Lyle.Whittaker@mdc.mo.gov.

| Trunk | Grade Level | DNS Curricula Supplemented |
| --- | --- | --- |
| Nature Unbound Field Experience | 9–12 | All |
| Nature Unleashed Field Experience | 3–5 | All |
| Nature Unhooked Field Experience | 6–8 | All |

Pickup Location

Shoal Creek Conservation Education Center, 201 W Riviera Drive, Joplin, MO 64804

To reserve a trunk, contact Jeff.Cantrell@mdc.mo.gov.

| Trunk | Grade Level | DNS Curricula Supplemented |
| --- | --- | --- |
| Monarch Butterfly | 1–5 | Nature Unfolds, Nature Unleashed |
| Bats Discovery | 1–5 | Nature Unfolds, Nature Unleashed |
| Missouri Owls | 1–3 | Nature Unfolds, Nature Unleashed |
| Mammals Tracks | 1–5 | Nature Unfolds, Nature Unleashed |
St. Louis Region

Pickup Location

St. Louis Regional Office, 2360 Highway D, St. Charles, MO 63304

To reserve a trunk, contact 636-441-4554.

| Trunk | Grade Level | DNS Curricula Supplemented |
| --- | --- | --- |
| Mammals | Pre-K–12 | All |
| Forestry | 3–12 | All |
| Aquatic Ecosystems | 3–12 | All |

Pickup Location

Powder Valley Conservation Nature Center, 11715 Cragwold Road, Kirkwood, MO 63122

To reserve a trunk, contact 314-301-1500.

| Trunk | Grade Level | DNS Curricula Supplemented |
| --- | --- | --- |
| Mammals | Pre-K–12 | All |
| Forestry | 3–12 | All |
| Aquatic Ecosystems  | 3–12 | All |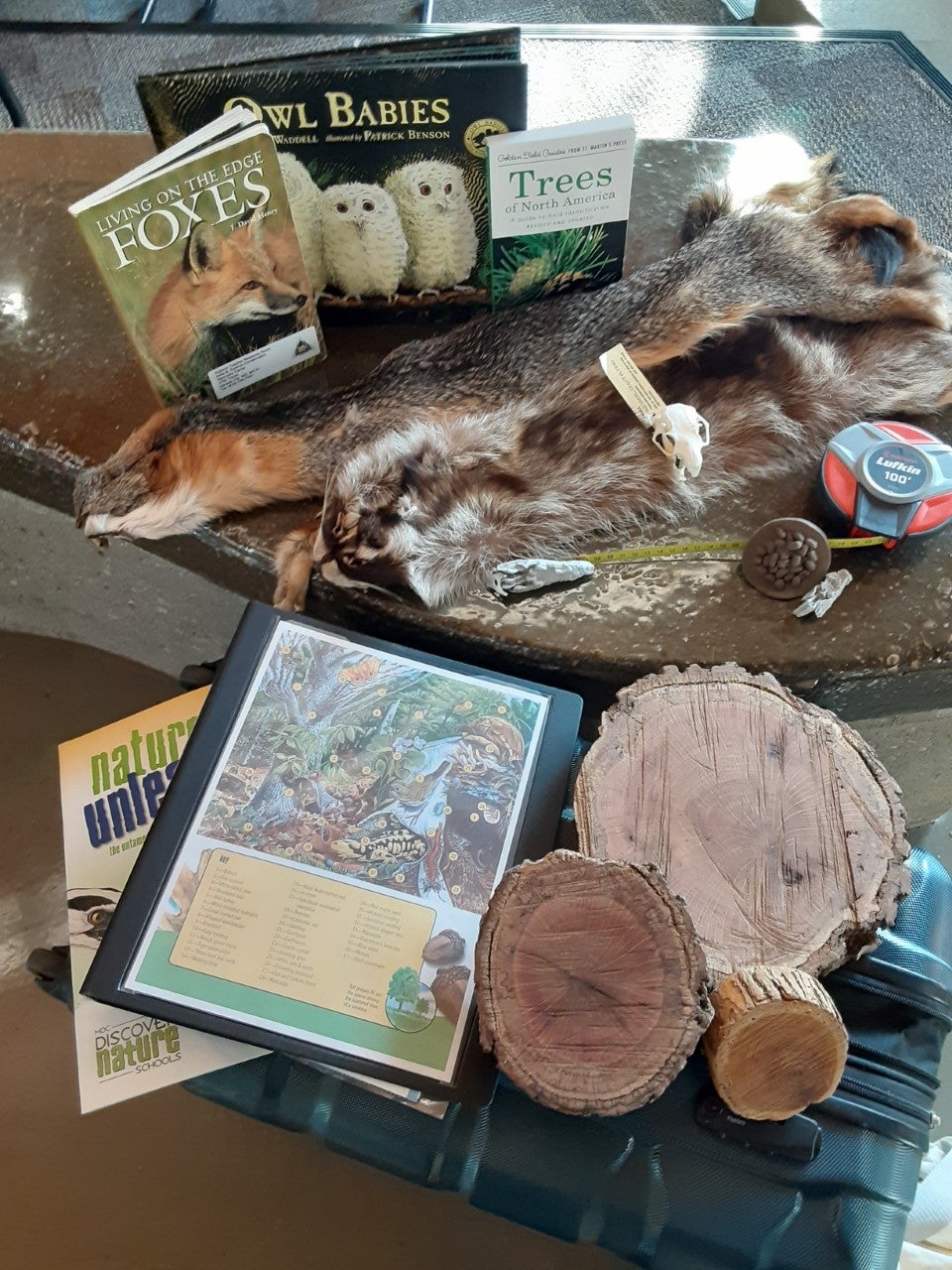 Sample forest trunk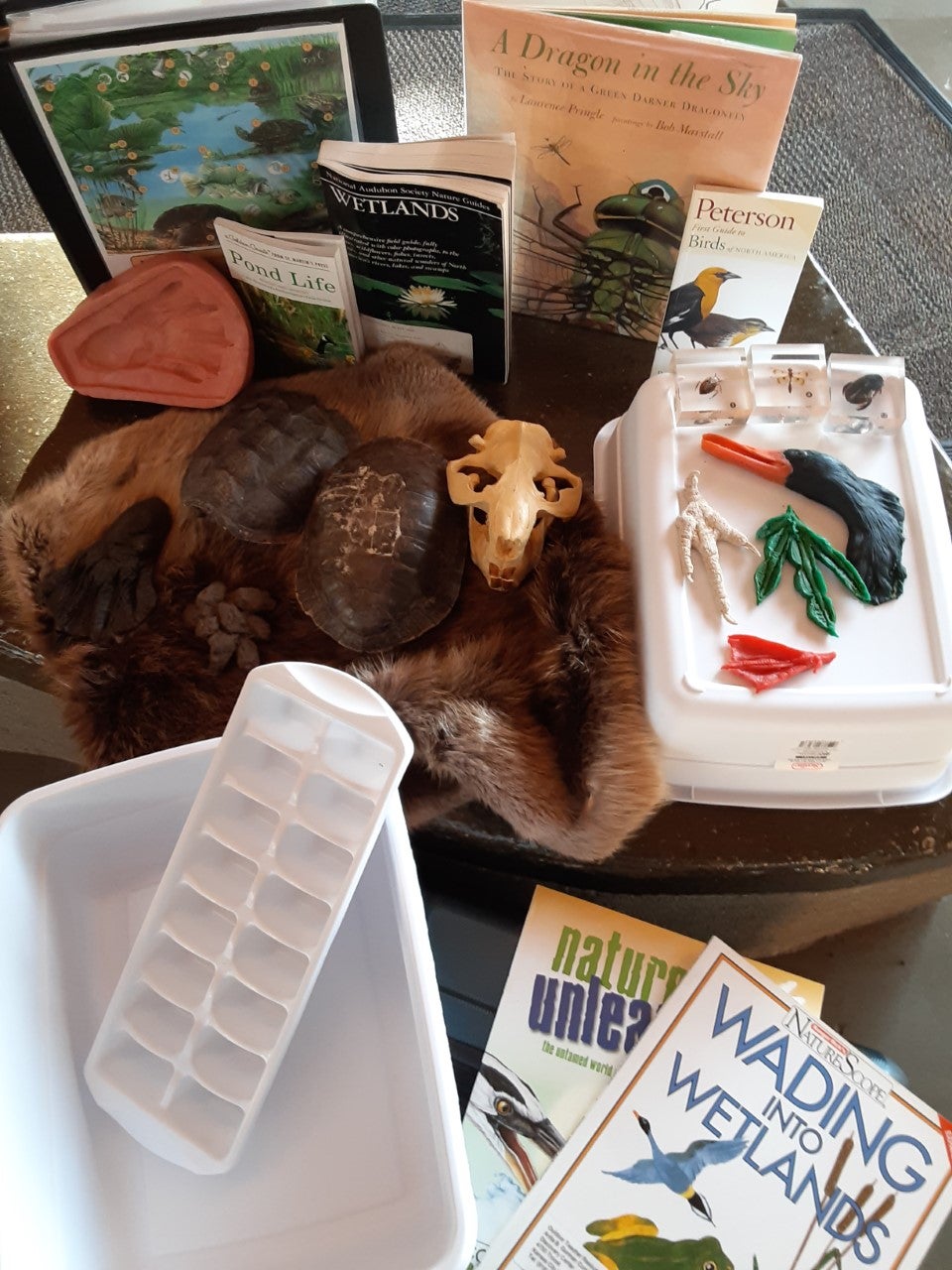 Sample pond trunk