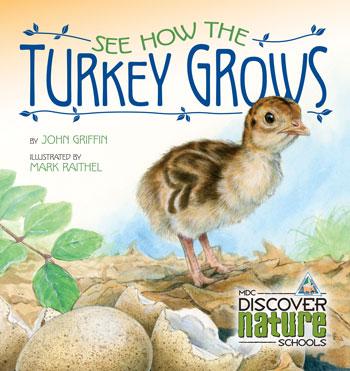 Our Nature Unfolds Instructional Unit includes a student book titled See How the Turkey Grows, a science notebook, and teacher guide. Together they help K-2 students learn about life cycles, seasons, weather, and basic needs of plants and animals.
See How the Turkey Grows is written for young learners. Instead of a simple textbook, this realistic fiction picture book is designed for children to make discoveries and connections as their understanding of concepts unfolds.
Activities in the teacher guide and the picture book are designed to last throughout the school year, giving teachers the tools to help students experience the environment outside the classroom all year. In warmer months, the book has activities like growing flowers from seeds and observing a caterpillar turn into a moth or a butterfly. Cold month activities include measuring snowfall and discussing the color changes in trees. Since Nature Unfolds meets state learning goals, students will learn required topics and be able to apply the information to problems and real situations.
Correlations to the Missouri Learning Standards and the Next Generation Science Standards are included as separate publications for download.
Explore the PDF versions of the student book and teacher guide below. Download the teacher guide to your tablet, or print student pages if you aren't using the science notebook.