Cape Girardeau
The Cape Girardeau Conservation Nature Center (CNC) showcases the cultural history and natural resources of southeast Missouri. The center features hands-on exhibits for all ages, freshwater aquariums, wildlife viewing areas, classrooms, and an auditorium.
Your group can explore the White Oak Trace, which is made up of two miles of trails winding through oak-hickory and river cove forest ecosystems, sinkholes, and a small, man-made swamp. The White Oak Trace includes the 1/4-mile asphalt-paved accessible Ridgetop Trail. The grounds around the nature center feature several demonstration garden beds planted with an array of native species and specialized beds including a rain garden, sand prairie, and shade garden.
At the accessible Kids Fishing Pond, children younger than 16 can try fishing for a variety of species. Poles and worms are available at no charge.
Find out more about the nature center, including directions, maps, and building hours.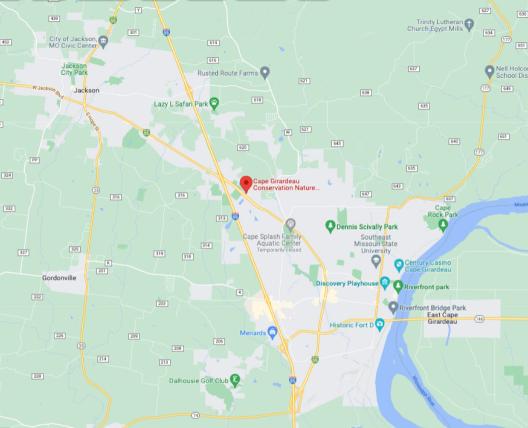 Cape Girardeau CNC
What to Expect at the Nature Center

Naturalist-Guided Visits

A confirmation letter will be mailed approximately two weeks prior to your visit.
Staff will greet you outside or at the entrance of the building.
We request a ratio of one adult per 10 children for most groups. Adults are expected to remain with the group and are responsible for group management.
Many of the programs do not occur in the exhibit gallery or on the trails. Additional time to explore these areas can be added to your visit. Please let us know if you plan to spend time in addition to the scheduled program.

Self-guided visits

If you are unable to schedule a guided program, your group is welcome to visit any time during our regular business hours, which are Tuesday through Saturday from 8 a.m. to 5 p.m.
We ask that all groups notify us the approximate number of students and time of arrival before visiting the nature center.
Scheduling a Program

Programs range from 1 to 2 1/2 hours and, unless otherwise specified, consist of an indoor and outdoor portion (weather permitting). The outdoor portion may take place on paved or gravel sidewalks and trails or grassy areas. Most programs meet at least one Missouri Learning Standard for Science.

To arrange a naturalist-guided program, call 573-290-5218 or email CapeNC@mdc.mo.gov at least two weeks in advance. Field trips in the spring may require scheduling at least two months in advance.

We request at least 24 hours notice of cancellation.

Please let us know in advance of any special requirements to accommodate physical or learning abilities.
In-Person Programs

All Grade Levels

Indoor Auditorium Programs

Reptiles and Amphibians
Mammals of Missouri
Feathered Fliers
Incredible Insects

Grade Pre-K

Fantastic Frogs

Available March 15 through Oct. 15

Welcome to the world of frogs! Where do they live? What do they need to survive? Discover what makes amphibians so fascinating and important, explore the frog life cycle through an interactive story, and then visit our ponds to look for frogs.

Let's Go Fishing

Indoor only

What do you need for a successful fishing trip? Do you need a fishing pole? We'll identify the equipment necessary to catch the "big one" and listen to a story about when to keep a fish and when to release it. Learn about some local fish species, then visit our indoor classroom pond.

Cycle of Seasons

The world changes with the seasons, and so do we. Learn what makes each season special, and learn through stories and activities what animals, plants, and humans do in the autumn, winter, or spring.

Flutter and Fly

Available April 15 through Oct. 15

Butterflies and moths seem almost magical with their ability to transform from caterpillars to adults. We'll explore the mysteries of metamorphosis and how butterflies and moths survive.

Missouri Learning Standards: K.PS1.A.1, K.LS1.C.1, K.ESS.3.A.1, K.ETS1.C.1, 1.LS3.A.1, 1.LS2.A.2, 1.ETS1.C.1, 2.ETS1.C

Grades K–2

Super Seeds

Hitchhiking? Parachuting? Seeds lead adventurous lives. Go on a hike to search for seeds, then organize them into groups based on the way they travel. Examine plant parts, functions, and life cycles as we reveal the importance of seeds to humans and wildlife.

Missouri Learning Standards: K.LS1.1, 1.LS1.1, S.LS2.1, 2.LS2.2

Growing Up Wild

From little swimmers to feathered chicks, wild babies are adapted to survive. Learn about the differences between young animals and their parents and why it's important to let them stay wild.

Missouri Learning Standards: 1.LS1.2, 1.LS3.1

A Place Called Home

Everyone needs a place to call home. "Home" can be a hole in a tree, the bottom of a pond, or even underground. We'll discover what animals need to survive in their habitats.

Missouri Learning Standards: K.LS1.1, K.ESS3.1, 1.LS4.1

Fur, Feathers, and Scales

What color is your coat? Is it soft and fuzzy or smooth and shiny? Ponder these questions as we take a closer look at the similarities and differences among some of southeast Missouri's animals. By examining pelts, shells, and other animal artifacts, see and feel how different characteristics help animals survive in various habitats. We'll play a game outside to learn how these coverings help animals hide.

Missouri Learning Standards: K.LS1.1, KESS3.1, 1LS1.1, I.LS3.1, 2.LS4.1

Grades 3–5

Insect Intrigue

Become an insect investigator! Collect insects with nets, and explore the basics of insect anatomy and life cycles. Through hands-on activities, discover some of the remarkable characteristics insects have for survival.

Missouri Learning Standards: 4.LS1.A.1, 3.LS1.B.1, FLS1.D.1, 3LS3.B.1, 3.LS3.C.1

Tree Explorer

Explore trees from the inside out. How does a tree grow? How does it make food? We'll examine how trees get water and turn sunlight into food through photosynthesis as we explore trees from their roots to their leaves.

Missouri Learning Standards: 3.LS1.1, 4.LS1.1, 5.LS1.1

Wetland Investigator

Available March 15 through Oct. 15

Leap into wetland ecology, and learn what defines a wetland. We'll visit a wetland, dip-net for aquatic insects, and explore their amazing characteristics and how they fit into the wetland food chain.

Missouri Learning Standards: 4.LS1.A.1, 3.LS3.C.1, 3.LS3.D.1

What's for Dinner

Hungry for a little sunshine? All life starts with the sun. Become familiar with producers, consumers, and decomposers as we explore their roles within the food chain. We'll build on these connections and construct our own southeast Missouri food web.

Missouri Learning Standards: 5.PS3.1, 5.LS2.1

Grades 6–12

Additional programs are available at teacher request

Pond Ecology

Available March 15 through Oct. 15

Who lives in the pond? Our hands-on aquatic study will get your students outside to examine real pond habitats on-site. The classroom portion introduces students to aquatic ecology and the importance of wetlands.

Missouri Learning Standards: MS.LS2.1, MS.LS2.3, MS.LS2.4, MS.LS1.6

Archery and Wildlife Management

Ready, aim, shoot! Learn the basic steps to archery while exploring the use of hunting as a management tool. Investigate urban deer issues through real-life scenarios. Each rotation is limited to 15 students.

Missouri Learning Standards: MS.LS2.1, MS.LS2.4

Canoe Adventure Destination Program

Students can experience Missouri's natural resources firsthand through canoeing and other naturalist-led activities. The program, designed together by the teacher and naturalist, can include additional experiences such as fishing, macroinvertebrate sampling, and nature journaling. Program length is a minimum of 2 1/2 hours with a maximum of 25 participants (students plus adults) per session. The program takes place at Perry County Community Lake, Lake Girardeau Conservation Area, or Tywappity Community Lake (other areas can be considered). Please contact us for additional details.
Site Visits: We Come to You

Each year we offer a series of programs designed to travel to your classroom. Programs can include a classroom portion as well as outdoor portions depending on conditions and the location. Programs range from 30 minutes to 1 1/2 hours. These programs meet Missouri Science Learning Standards.

Things to consider: Because we're traveling to you, each program may look slightly different. If you have a green space that we can use, and the weather cooperates, we can include the outdoor portion of each program. If you don't have a green space, then we will adapt the program to better suit an indoor environment. The audio-visual equipment available may also affect how we conduct the programs. Ultimately, we strive to provide the most interactive, memorable experience possible for your students, and we will adjust as needed.

Grades K–2

Feathered Fliers

What makes a bird a bird? Why do some birds prefer lakes and some forests? Missouri is home to a variety of feathered fliers with specialized adaptations that help them thrive in different habitats. Your students will explore these features through hands-on investigation and outdoor play.

Missouri Learning Standards: K.PS1.A.1, K.LS1.C.1, K.ESS3.C.1

Super Seeds

Hitchhiking? Parachuting? Seeds lead adventurous lives. Go on a seed-search hike and then organize them into groups based on their method of travel. Examine plant parts, functions, and life cycles as we reveal the importance of seeds to humans and wildlife.

Missouri Learning Standards: K.LS1.1, 1.LS1.1, S.LS2.1, 2.LS2.2

Fur, Feathers, and Scales

What color is your coat? Is it soft and fuzzy or smooth and shiny? Ponder these questions as we take a closer look at the similarities and differences among some of southeast Missouri's animals. By examining pelts, shells, and other animal artifacts, see and feel how different characteristics help animals survive in various habitats. We'll play a game outside to learn how these coverings help animals hide.

Missouri Learning Standards: K.LS1.1, KESS3.1, 1LS1.1, I.LS3.1, 2.LS4.1

Grades 3–5

Operation Owl

Owls are uniquely adapted night hunters who produce a valuable research tool, owl pellets. We examine these pellets for information on what prey animals are present in an owl's habitat.

Missouri Learning Standards: 4.LS1.A.1, F.PS3.D.1

Grades 6–8

Back in Time

Vertebrates range from a frog species about the size of a housefly to a blue whale that is 100 feet long. They're found on every continent, in almost every habitat, and while they have similarities, they also have vast differences. This program explores the five general classes of vertebrates, what makes them similar and different, and how they thrive in different environments.

Missouri Learning Standards: 6-8.LS1.B.1, 6-8, LS4.B.1, 6-8.LS4.C